Lace fabrics are a timeless and versatile material that has been a staple of bridal fashion for centuries. With its delicate and intricate designs, lace adds a touch of sophistication and femininity to any outfit. As summer weddings are fast approaching, this blog will focus on the use of lace fabric to add elegance to your special day.
Lace fabrics are created by interlacing threads, yarns, or cords to create a decorative pattern. Its origins can be traced back to the 16th century when it was first introduced in France and Italy. Over time, lace became increasingly popular and was used in a variety of garments, from lingerie to wedding dresses.
This blog aims to explore the different types of lace fabric. Here we have discussed the characteristics of lace that make it an ideal choice for summer weddings. Whether you are a bride, a bridesmaid, or a wedding guest, you will find valuable information and inspiration on how to incorporate lace into your summer wedding attire. So, if you want to add a touch of summer wedding elegance to your special day, keep reading!
Is lace fabric suitable for summer weddings?
For summer weddings it's crucial to choose a breathable, lightweight and flowing fabric. Lace is typically lightweight and breathable, making it comfortable to wear on a warm day. 
Additionally, lace fabric has a delicate and intricate appearance that can add a touch of elegance to your wedding dress. 
However, it is important to choose a type of lace appropriate for the warm weather, such as Chantilly lace, Guipure lace, or Macrame lace, which are all known for their lightweight and breathable qualities.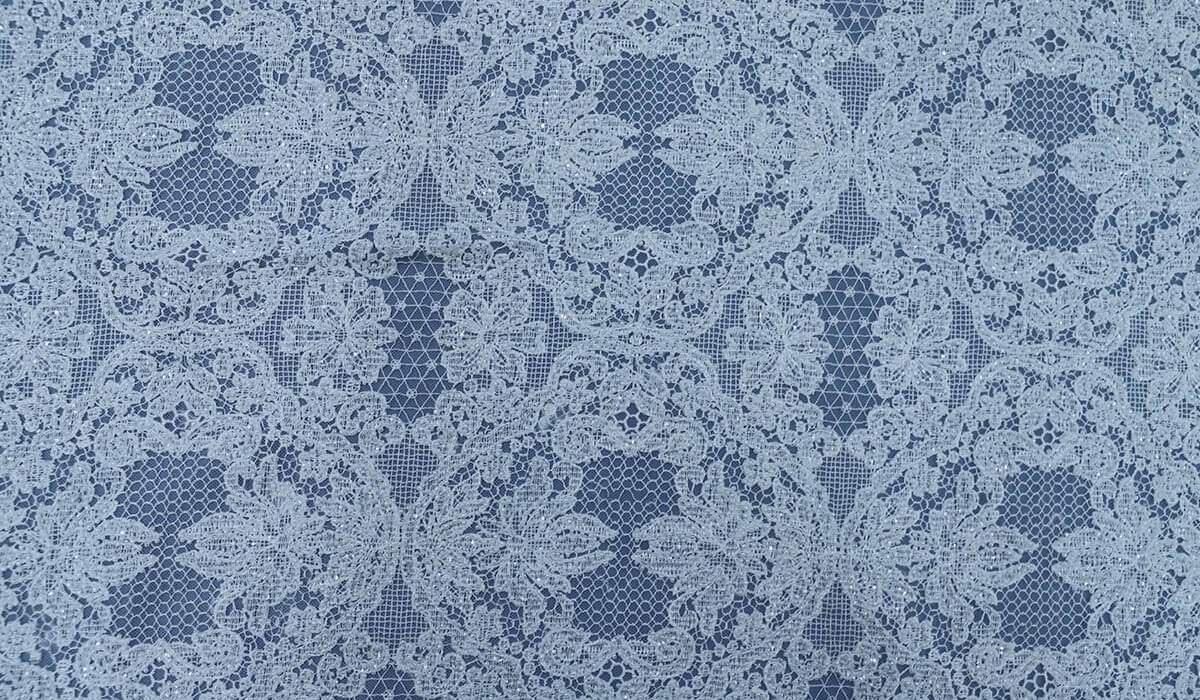 How can you tell if a lace fabric is of good quality?
Material: High-quality lace is typically made from durable materials, such as cotton, silk, or a blend of both. Synthetic materials can also be used, but it is important to make sure that they are of good quality and not prone to fading or fraying easily.
Craftsmanship: The quality of the lace is also determined by the level of craftsmanship that goes into making it. Look for lace with precise, clean edges, and evenly spaced pattern repeats.
Pattern density: A high-quality lace material should have a dense pattern that is well-defined and easy to see. A more intricate and delicate pattern often indicates a higher quality of lace.
Stretchability: Good quality lace should have a slight stretch to it, making it easier to work with and to fit appropriately on a garment.
Durability: High-quality lace should be able to withstand washing, ironing, and general wear and tear without losing its shape or unravelling.
By considering these factors, you can determine if a lace fabric is of good quality and suitable for your needs.
What Types of Lace Fabrics are best for Summer Weddings?
When it comes to planning a summer wedding, lace is an all-time favourite. The reason is simple. There are plenty of lightweight and breathable cotton lace fabrics available online. 
Here are the top 3 types of lace fabrics perfect for crafting a summer wedding dress:
Chantilly Lace: Chantilly Lace is characterised by its delicate and intricate floral pattern. It is often made of cotton or silk and is known for its soft, lightweight, and airy appearance. These properties make Chantilly Lace a good option for a summer wedding dress. It will provide comfort and ventilation on a warm day while offering an elegant and sophisticated look. 
The sheer and delicate appearance of Chantilly Lace also adds a touch of femininity and romance to a summer wedding dress. It is a delicate, floral lace that is lightweight and airy, making it an excellent choice for a summer wedding dress.
Guipure Lace: Guipure Lace is a type of lace fabric that is characterized by its heavier, bolder motifs and a more solid appearance. Unlike other laces, Guipure lace does not have a net or mesh background, making it a popular choice for bridal gown designs that require a more structured look. It is often made from cotton, silk or synthetic fibres and is known for its durability.
Macrame Lace: Macrame Lace is a type of decorative lace made from knotting cords or yarn. It is characterized by its unique, textured appearance and is often used for bohemian, vintage, or beach-inspired designs. This type of lace is known for its light and airy quality, making it an ideal option for summer wedding dresses. It will provide ventilation and comfort in warm weather.
Additionally, Macrame Lace can add a touch of whimsy and playfulness to a summer wedding dress. That makes lace fabric a good choice for brides who want to incorporate a more relaxed, bohemian style into their wedding day look.
What Characteristics of Lace Fabric make it an absolute choice for wedding dresses?
From the delicate and intricate appearance to a soft texture, and versatility all these features of lace fabric make it an excellent choice for designing a summer wedding dress. Here is what makes the Lace fabric an absolute choice for wedding dresses,
Delicate and Intricate Patterns: Lace fabric is popular for its delicate and intricately woven patterns. That's why wedding dresses crafted with lace material always look sophisticated and elegant.
Sheer Appearance: Lace fabric often has a sheer appearance, which can create a romantic and delicate look for a wedding dress.
Soft and Comfortable: High-quality lace fabrics are made from soft and comfortable materials, such as cotton or silk. Because of that, lace dresses are very comfortable to wear for an extended period.
Versatility: From traditional, classic gowns to modern, contemporary designs, modern brides can use lace fabrics in a variety of styles. That's why lace fabrics are a versatile choice for crafting wedding dresses.
Suitable for Various Occasions: Lace fabric is suitable for both formal and informal weddings, making it a good choice for various wedding styles and themes.
How to use Lace Fabric at Summer Weddings?
You can use Lace fabrics in a variety of ways at weddings. It can add elegance, sophistication, and a touch of romance to your big day. Apart from crafting your wedding gown, here are some ways to incorporate lace fabric into your wedding:
Table Linens: You can create elegant table linens for the wedding reception using lace fabric. It can add a touch of sophistication to the dining area.
Decorations: Lace fabric can also be used as a decorative element in a wedding, such as incorporating lace into floral arrangements, invitation cards or other decorative items.
Bridesmaid Dresses: Bridesmaids can also incorporate lace fabric into their dresses, either as a full lace gown or as a lace accent on a solid-coloured dress.
Veil: A lace veil can add a touch of romance and elegance to a bride's look on her wedding day.
Lace can add a timeless touch to your wedding theme. Also, you can use lace fabrics for bohemian weddings or beach weddings. 
Conclusion
From delicate Chantilly lace to bold Guipure lace, there are many different styles and patterns you can choose from as far as planning a lace-themed wedding is concerned. Each type of lace fabric has its own unique look. Whether you prefer a more traditional look or a more modern and contemporary style, there is a lace fabric that is perfect for you. Therefore, modern brides must not be afraid to experiment. Have fun with lace designs, and let your style shine through on your special day!
FAQs
What is the most expensive lace fabric?
The Leavers lace is the most expensive in the world. There remain only a few manufacturers of this type of lace in Northern France. To prepare the Leaver's lace thousands of individual threads are woven together on a 100-year-old loom. It can cost more than a hundred dollars per square meter.
What lace is best for light skin?
The best lace material for light skin is a matter of personal preference and depends on the occasion, outfit, and skin tone. Trying on different laces and colours can help determine which one is the best fit. Generally, lighter-coloured laces tend to complement lighter skin tones better, as they do not contrast as strongly with the skin.
Is lace better for summer or winter?
Lace can be suitable for both summer and winter, depending on the type of lace and the way it is used. Here are a few points to consider:
Summer:
Lightweight and breathable lace fabrics, such as cotton or linen lace, are ideal for hot weather. These materials help keep the skin cool and comfortable in the summer heat.
Lace can add a touch of elegance and femininity to summer outfits, making it a popular choice for summer weddings, parties, and other events.
Winter:
Heavier laces, such as velvet or corded lace, are ideal for winter, as they provide more warmth and insulation.
Lace can be used as a layering piece in winter outfits, adding texture and interest to warm winter garments, such as coats, jackets, and scarves.
Can you wear lace during the day?
Lace comes with delicate and versatile designs and can be worn during the day. You can either keep it casual or layer it up with a jacket. Overall, lace can be a stylish and sophisticated fabric to wear during the day, as long as it is paired with the right items and styled in the right way.