Hey, lovely Fall Brides! Congratulations on your engagement! We know how excited you are about this incredible journey. So are we. At the same time, we know you must be looking for a perfect wedding outfit. And, if you are the kind of girl who loves to customise her own dress, we are here to help you choose the perfect fabric.
Easy & Breezy Chiffon
One of the most tried-and-true bridal fabrics is chiffon! It's a sheer and simple weave that's sourced originally from silk. While it's widely popular as a summer fabric, chiffon is equally the favourite of fall brides as well. This delicate, lightweight fabric is perfect for an outdoor setting as well as for a court wedding. Chiffon is great for skirts and gowns offering lots of movement and works for every style of dress, making it an amazing fabric for dancing the night away. If you want to add volume to the chiffon dress, add a lining. This way, you can keep your dress comfortable and sophisticated.
If you're looking for the soft and effortless look that chiffon provides, consider chiffon outfits from Bianco Evento. Chiffon outfits are classic, romantic, and perfectly lightweight! Personalise your chiffon gown by adding buttons down the back, selecting the strapless lined bodice, opting for the detachable lace and sequin cap sleeves, or choosing one gorgeous bridal wrap.
Traditionally Chic Crepe
No bride could ever go wrong by choosing crepe fabric for their wedding! It's sleek, sophisticated, and effortlessly classy. A crepe outfit mirrors minimalism at its best and is made from a smooth, slightly stretch draping. Crepe is distinguished for its flowy-yet-striking appearance. Traditionally, crepe gowns are made from silk, but they can now be made with almost any textile! Brides love this fabric of wedding dresses for its ideal thickness, comfortable elasticity, and versatility for embellishments.
Modern crepe gowns with illusion back comes with a sleek, classic-yet-modern look. For a personalised look, you can add beaded illusion cap sleeves or a detachable embroidery train extension! Another gorgeous crepe wedding dress option is the statement piece with a short or tea-length hemline.  If you're looking for more of a boho crepe look, consider floor length gowns always. Check out a stunning range of simple V-neck wedding dresses that feature luxe crepe and a red-carpet-ready bodice.
Luxurious crepe fabrics is one of our bestselling items  this wedding season.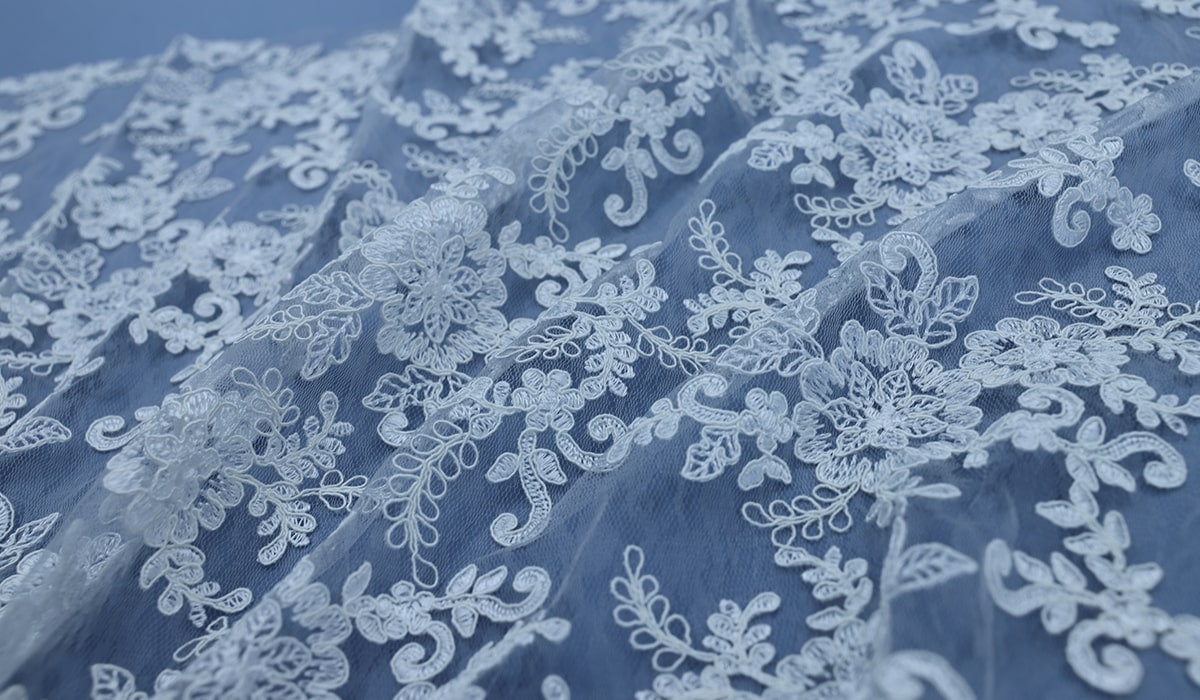 Vintage Lace
With bridal lace, your options are endless. From chantilly to embroidered, to guipure, to soft knit, each of these lace weaves comes with its unique charm. They add a vintage vibe to your outfit while keeping your style quite up to the moment.
For garden-inspired bridal lace, explore our wide range of boho-inspired gorgeous floral lace fabrics. Personalise a boho lace gown by opting for illusion detail on the back and adding spectacular cathedral veil.
Sequin lace motifs are in high demand. They offer an elegant, dreamy look to fall brides. From bridal dresses to accessories, sequined lace is a staple everywhere. The fabric is distinctly different and light from other lace textiles.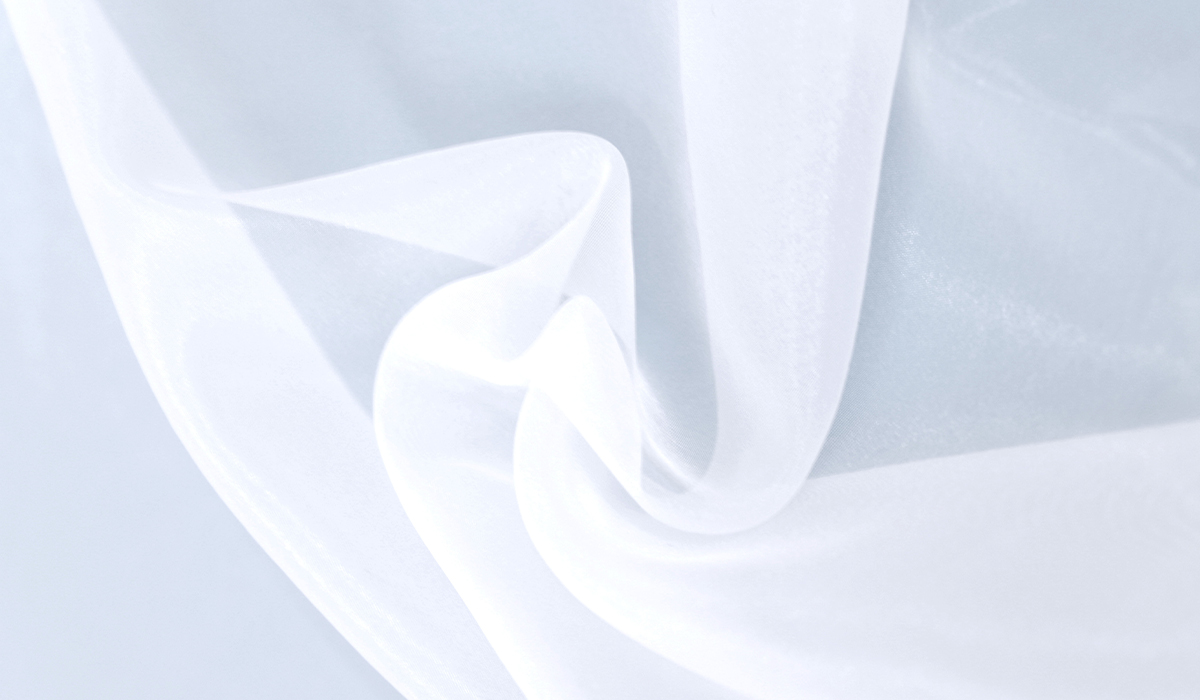 Ostentatious Organza
Looking for a fabric like tulle that's even more lightweight? Organza is a sheer fabric of wedding dresses that is not as stiff as tulle and is traditionally made from woven silk to create a soft, airy material that moves with you. An easy way to create volume and drama without too much weight is by adding more layers of organza—a feat that is difficult to do with tulle!
If you're more of a statement-making, drama-loving bride, you'll love Ripley by Sottero and Midgley. This organza mermaid bridal gown features gorgeous shimmer, unique texture, and a fabulous train accompanying its incredibly flattering silhouette. Make this gown your own through personalization by extending, shortening, or removing the train, opting for a lace-up corset closure with a raised back neckline, or adding the matching cathedral wedding veil adorned in sequined lace motifs.

For our brides, who love the soft, simple organza look, is the perfect dress! With its romantic lace and v-back, this breathtaking gown will have you feeling like a princess all night long. Extend or shorten the train or add a beaded belt at the waist to personalize this look for your wedding day.
Classic And Clean Satin Bridal Fabric
When it comes to luxury, Satin deserves special mention, and for all the right reasons. It is a delicate, luxurious textile with a slight sheen. With a proper lining it adds volume to the dress. Ruched outfits or ballgowns are perfectly designed with Satin.  A gorgeous satin skirt with a beaded illusion bodice makes your fall bridal outfit a true stunner.
Ending note...
Choosing a perfect dress fabric is the hardest part of bridal shopping. Having a guide always helps to make an informed decision.