"There's a lace for every bride", but when it comes to choose one, it's easy to get perplexed. With countless options, choosing the perfect one often seems like an unapproachable task. For the wedding outfits, designers go little too careful because lace, even though extraordinarily versatile needs perfect pairing. For example, floral lace motif stands a perfect embellishment for a ball gown bodice, but probably not so wow for a lace edged veil. For the latter, we would probably go for the beaded lace fabric with subtle embroidery.
At Wedding Fabrics, lace is our staple and with every wedding season, we weave a saga of love on our dresses. Each of our lavish lace fabrics reflect artistic detailing, lush finish, and a majestic vibe. Our embroidered lace fabric go far beyond your expectations.
If you are planning to visit any of our partners' studio for dress shopping, be sure to get the best guidance, however in the meantime here is a guide for you to explore!
Stately Guipure Lace
For the brides who picture themselves in an ostentatious wedding gown can opt for this. Inspired by the 16th century arts, Guipure or the Venetian lace is a heavy handmade lace perfect for bridal ball gowns. It features a closed stitching to create a raised design which adds a personality and charm to your bridal gown. In our production unit, we notch up the Guipure design with silk threads to intensify sophistication. Lately, a plethora of floral motifs are weaved out of it, and you can see the same in Bianco Evento's signature product Omnia. The bodice as well as the sleeves of the dress reflect a floral carving, which imitate the aesthetics of regal attire. While being a true classic in terms of design, Guipure lace exudes sheer modernity in the way it is placed in our wedding gowns.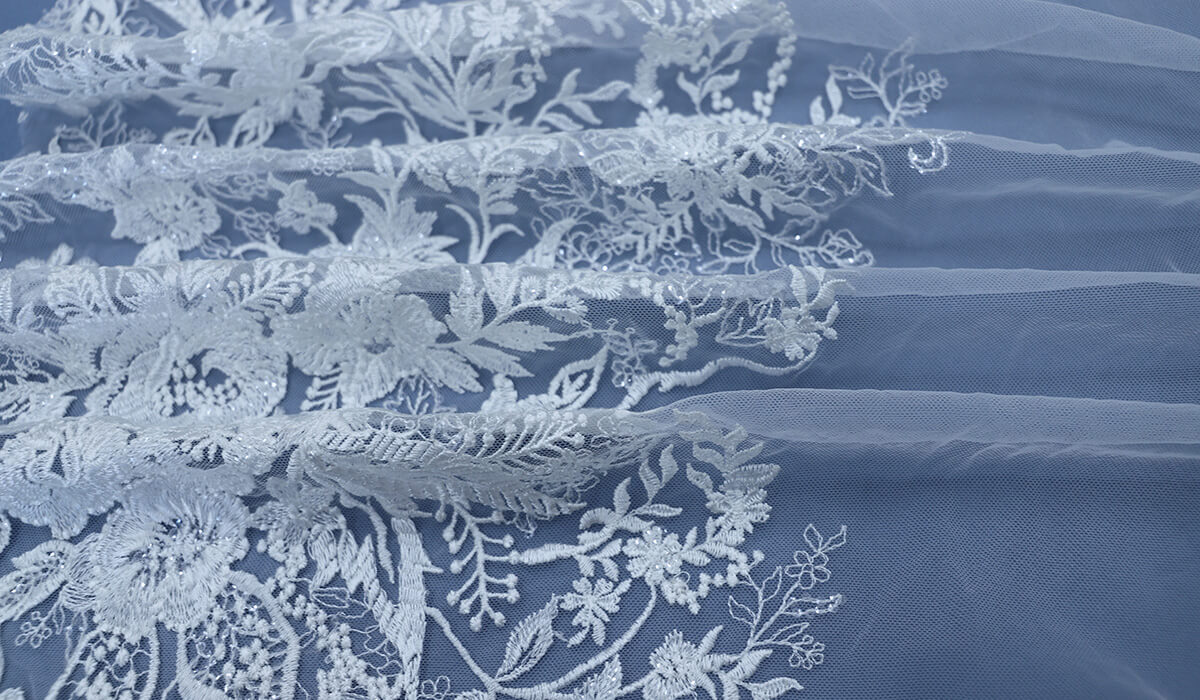 Flexible Knitted Lace
Far from being extravagant, the knitted lace is one of its kinds and a signature product from our bridal wardrobe. Unlike guipure it is subtle, simple, and effortlessly minimal. It does not come with any tulle backing; hence it is flexible and more breathable than other types of lace. This one makes a perfect fabric to weave a lace bolero for a nonconventional bridal look. Being a soft lace, it appropriately contours around the body with ease. What's more interesting is that our lace bolero makes a great pair with an array of bridal skirts.
Breathtaking Lace Appliques
Decorative lace appliqués are one of our coveted collections and tastefully gracing the Bianco Evento veils. Sewn onto an existing fabric, lace appliques are perfectly scattered throughout the design. Attached on the veil's edge, these lace appliques create all the drama and certainly amps up your feminine charm. The lace appliqués on S 370 makes it a classic glam, no doubt creating a retro vibe with romance galore. This stunning bridal veils lavish up your wedding look for a lot of insta worthy looks. Made from the best quality fabrics and detailed with intricate craftsmanship, our lace applique highly talks about our artistic excellence.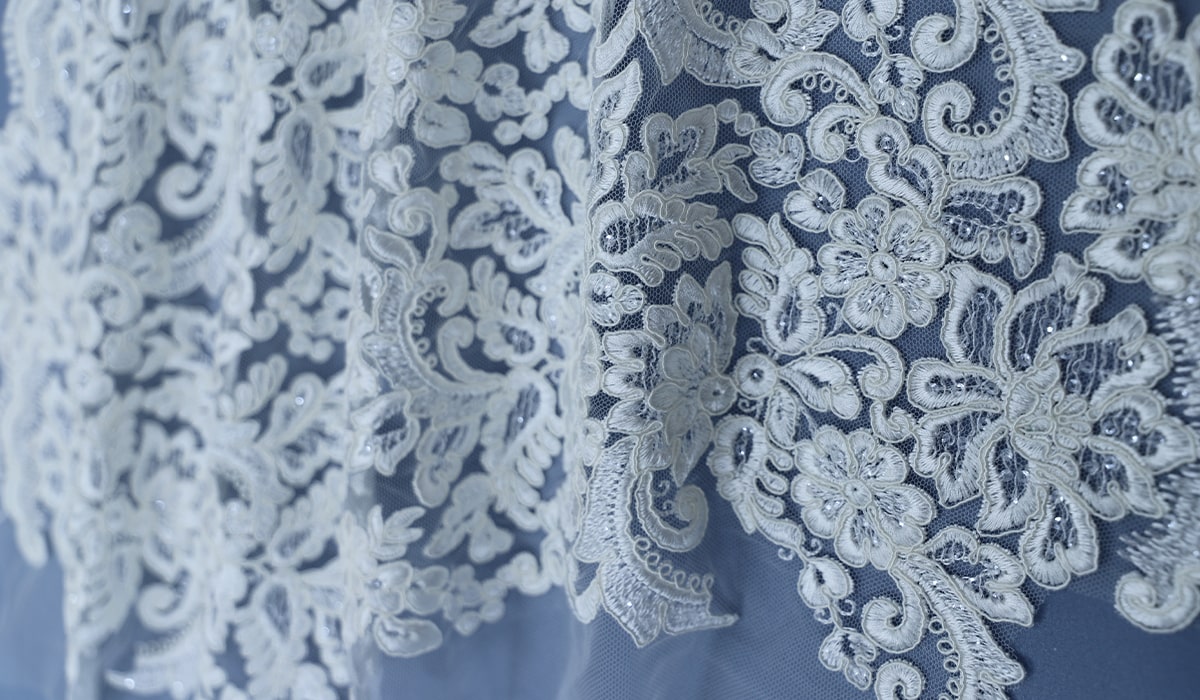 Soft Cotton Lace
Cotton lace is one of the most favoured items among brides, but to be honest soft cotton lace is best for brides with petite frames. These are as comfortable as it is casual. For the modern boho brides, these are absolutely amazing. Our APERTA perfectly holds a beautiful arrangement of cotton lace across it's tea-length silhouette, which lends it a vintage vibe alongside a true contemporary vibe.
Glitzy Sequined Lace
Our Sequin Embroidered Lace is a gorgeously ornate lace fabric featuring heavy floral embroidered ivory motifs and sparkly sequin details that are spread out densely across the material. The extravagantly embroidered lace makes a perfect accessory to enhance the look of bridal dresses, gowns, and skirts. If you are someone with a traditionalist soul and love to indulge in sheer extravagance on your wedding day, ballgowns made from such fabric is certainly a great option.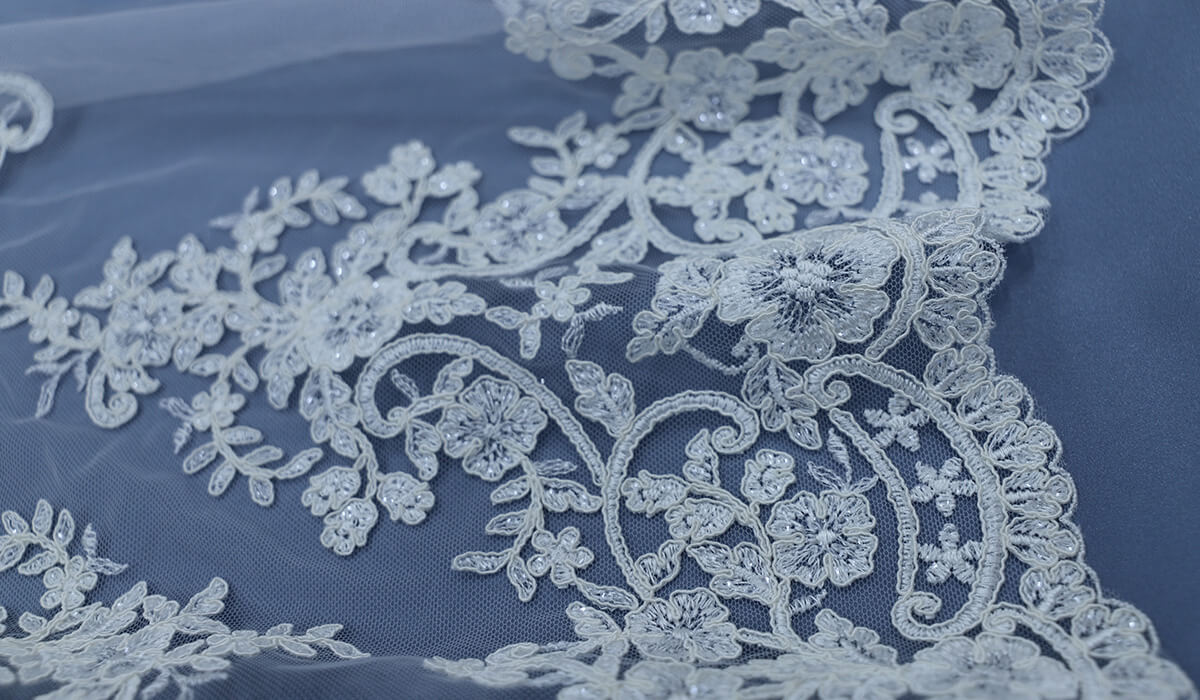 Last but not the least
While lace is one of the most sophisticated accessories to embellish bridal gowns, we take it to the next level by using it in Avalia shoes. We know small details can feel overwhelming, but the lace detailing on our finest bridal shoes depict a nothing but chic sophistication.
So, if you are planning to do wedding shopping and lace is going to top your preference list , here's a guide to help you out.