Nothing is nearly as striking as a lace wedding dress. The grace of lace is so irresistibly captivating that it exudes a charm even after years, perhaps forever. No wonder why bridal lace fabric designs are so amazingly gorgeous and make brides fall for it. It can transform an otherwise nondescript outfit into a stunning one. Lately, designers are coming up with a variety of bridal lace fabric designs, each of which depicts class, panache, and elegance.
Some of the most celebrated wedding dresses incorporate Guipure, sequin, and beaded lace. The sharp detail of the embroidered lace is one of our hottest favourites at Wedding Fabrics. The grace of Guipure and the charm of floral embroideries are mind blowing. Most importantly, when paired with the right kind of material, bridal lace designs notch up the drama. Here's a look at the finest lace fabrics at our inventory.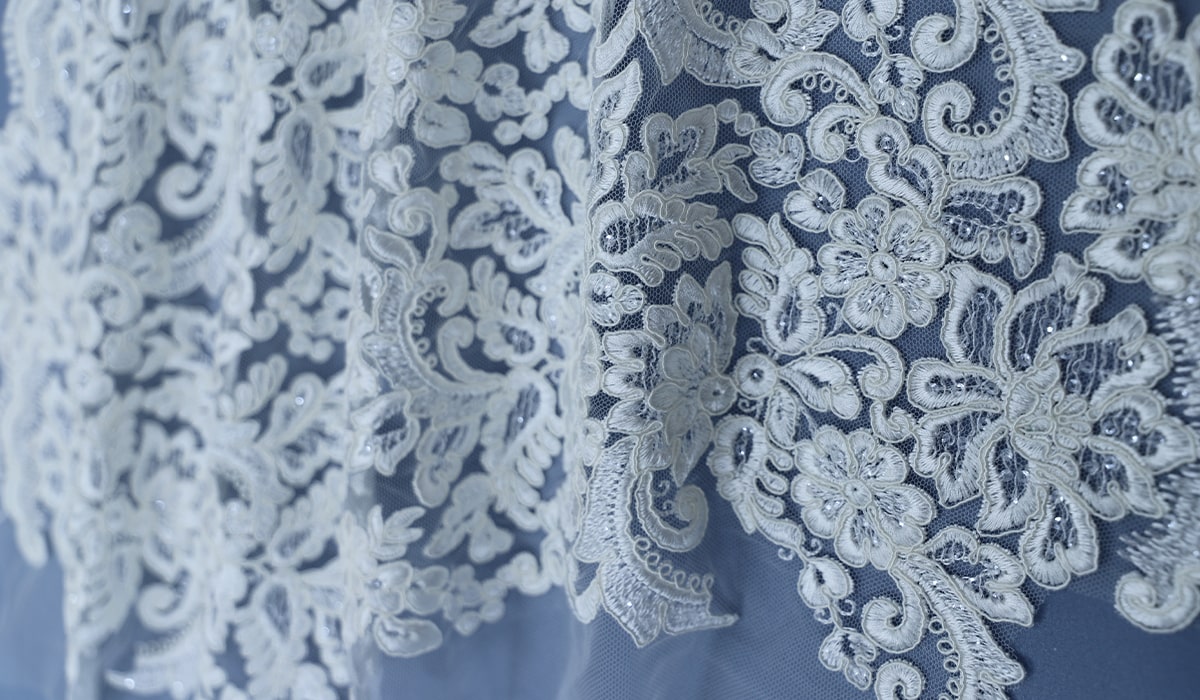 Sequinned Embroidery Lace
Sequin embroidered lace is a lovely lace fabric with floral embroidered ivory motifs and sparkly sequin details that are spread out sparsely across the material. The sparkly embroidered lace can be a great accessory to enhance the look of bridal dresses, gowns, skirts, and other accessories. The material features plenty of translucent and ivory sequins to give an enchanting effect to the entire fabric, making it look absolutely gorgeous.
Beaded Embroidery Lace
Beaded embroidery lace is one of our most happening product lines. Found in the bestselling veils, dresses, and outfits of Bianco Evento, this is a sweet and elegant sparkly fabric with light beaded work and ivory embroidered big flower motifs that are loosely spread out closely across the fine material. Beaded embroidery on the lace gives it a shimmer that enhances the look of bridal dresses, gowns, skirts, veils, and other accessories.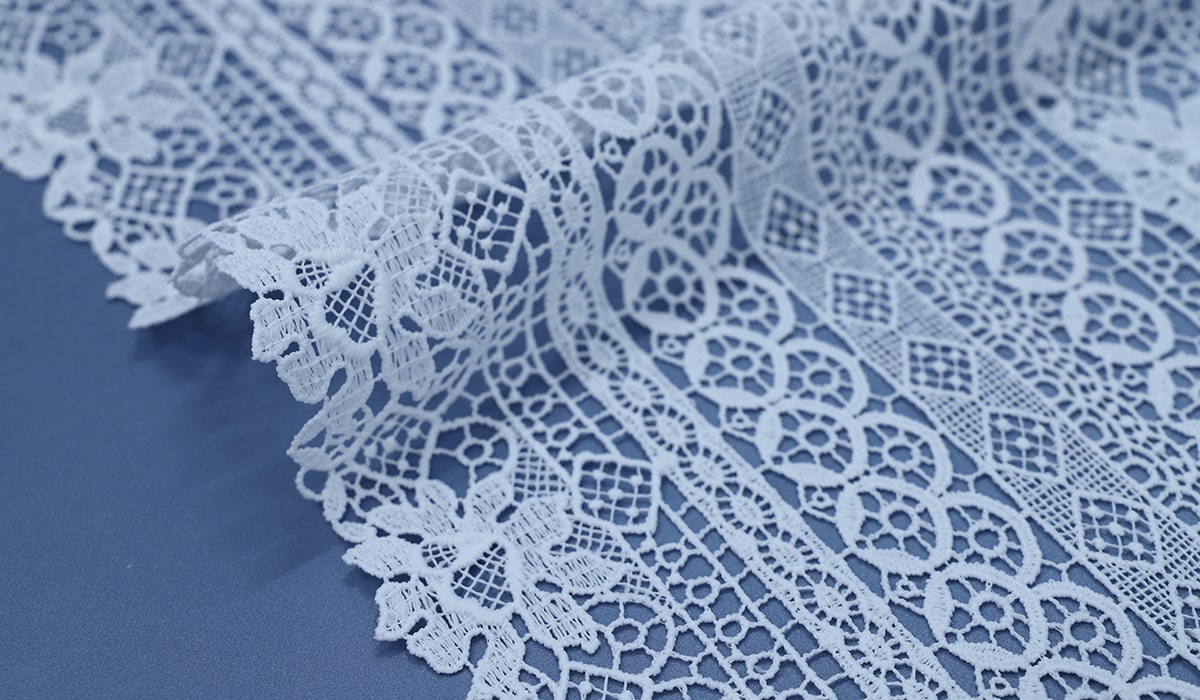 Guipure Lace
Guipure lace is immensely delicate featuring convex lace elements that are connected with bars or plaits. Our ivory Guipure lace with floral patterns has an airy look that goes best with bridal dresses, gowns, skirts, and other accessories.
Over the years, Guipure has evolved a lot in terms of designs and patterns. It's basically a kind of bobbin lace which is hand made by twisting and braiding thread. These threads are twisted on bobbins in order to manage them more easily. Woven on a lace pillow with set pins, Guipure lace follows a particular pattern. By carefully weaving the threads around the pins, the beautiful lacework is gradually created.
The most remarkable part of the Guipure lace is the way it is weaved. The main motifs of the pattern are connected with bars or plaits rather than net or mesh. It's basically a needlework lace which is constructed mainly using a needle, thread and scissors and features mesh or net texture thus making it so very dense. In fact, Guipure lace is extremely delicate, which allows the main motifs of the lace to really stand out, making for an incredibly intricate and pretty design.
In Europe, Guipure lace has garnered a world of popularity, with significant variations of it occurring in Italy and Malta in the 16th century. Later on, it has inspired specific dressing styles of England in the 19th century and today it is popular across the world.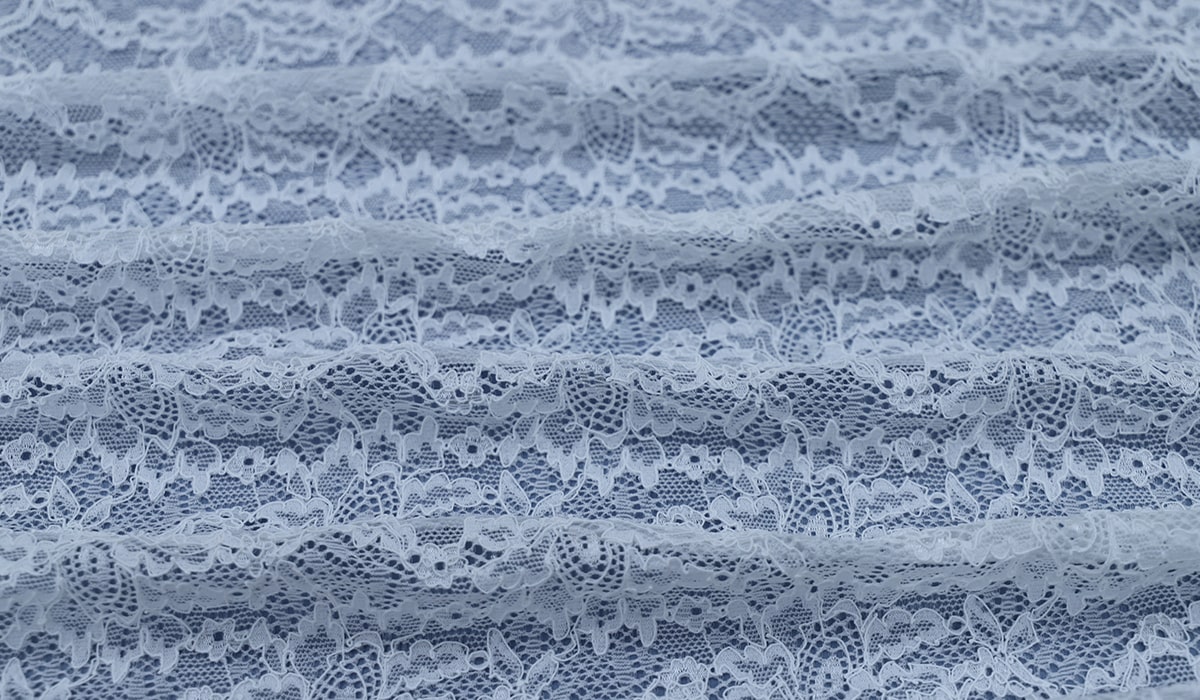 Elastic Lace with Embroidery
We have a huge inventory of beautiful elastic lace fabric with intricate floral patterns in soft ivory colour. The lovely lace presents a dense floral pattern that is spread out across the fabric and is perfect to be used on bridal dresses, gowns, and accessories to notch up a classic charm.
Oodles of Lace, Lots of Grace!
Lace has always reigned brides' hearts. It's mesh like appearance imparts the fabric a delicate and feminine aesthetic. When designed with geometric or floral motifs it instantly creates a rare romanticism that is otherwise not available in other fabrics.
There is no doubt that lace looks and feels gorgeous. However, to make any outfit or veil appears gorgeous, seamstresses and designers need to work together. No doubt, why bestselling lace products of Bianco Evento takes so much time to get sewn and designed. Designing a lace dress demands a lot of patience and planning. Also, keep in mind there's a big difference between making lace from scratch and working with lace. Whether you use it as a dress overlay or for edging trims, it's crucial to choose the right kind of lace to design your dream dress.